Performing Democracy: Syrian Art Practices Today
September 26, 2015 @ 6:30 pm

-

7:30 pm

Free
Even before the revolution broke out, but certainly after it, artistic practices in Syria often centered around democratizing the access to performative and artistic spaces. In the face of collective political calamity, a "democratization" of images takes place. This democratization, as Susan Sontag argued, turns the Event or calamity into an object that can be possessed. Indeed this is the case, however the unprecedented scale of the democratization of artistic space in Syria forces us to reflect further on the function of this objectification of the Event. To reflect on this issue, this panel invites the writer and theater practitioner Mohammad Al Attar and film critic Zaher Omareen to discuss the role of aesthetics in the political struggle in Syria. As Omareen will discuss through his work with "filmer cinema," the small mobile film documentaries that are being produced in Syria today shown a remarkable vitality in aesthetic form that puts to question our most basic assumptions about aesthetic value.  Whereas Omareen calls them filmer image makers, Al Attar subverts the entire theatrical structure by rearranging the relationship between the audience and the actors. As theater becomes democratized to allow the performances of the public at large, Al Attar reflects on the role of theater in the defiance of despair and in the work of building testimonies. Through their different media and production techniques, Omareen and Al Attar will reflect on how democracy is performed in Syria today, and together with them we expect to question such stable constellations as artist, spectator, and stage. This line of questioning will bring us closer to Syrian artistic expression and will allow us to reflect on basic, and enduring concepts about the relationship of art to politics.
Mohammad Al Attar
(Damascus, 1980) is a Syrian playwright and dramaturge. His theatrical works like: 'Withdrawal' , 'Samah' , 'Online', 'Could You Please Look into the Camera?', 'A Chance Encounter', and 'Antigone of Syria' , have been performed in Damascus, London, New York, Seoul, Berlin, Brussels, Edinburgh, Tunisia, Athens, Beirut, and elsewhere. He has written for numerous magazines and newspapers, with a special focus recently on the Syrian Revolution.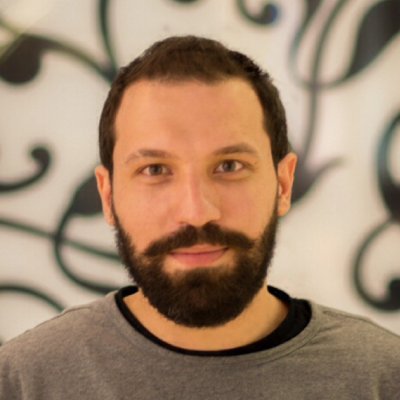 Zaher Omareen is a Syrian documentarist and researcher, recently featured in the Victoria and Albert's exhibition Disobedient Objects and in the British Council – London's Third Space exhibition. He is co-editor of Syria Speaks: Art and Culture from the Frontline (Saqi Books, 2014), and his articles and short stories have been published in English and Arabic. He curated several exhibitions of Syrian uprising art in Amsterdam, Copenhagen and London. He is a PhD candidate in contemporary documentary cinema and new media at Goldsmiths College, London.
The panel is moderated by Rana Issa