Palestinization of Syrian Refugees – Panel and film
September 24, 2015 @ 5:30 pm

-

8:45 pm
The situation for the refugees has become increasingly present in the Norwegian and European media over the last weeks and months. However, the debate about the refugees is still being repeatedly depoliticized and reduced into a question of numbers only. In this debate we will take as a point of departure the assertion that the influx of refugees is not the core of the problem; rather it is the outcome of a distorted world order. We want to approach the discussion about the refugees by posing critical political and moral questions about the current global state of affairs, immigration laws and the grave injustices that contribute to worsening the crisis, with a special focus on the Syrian refugees' case and the European and Norwegian response to these questions. Why is the metaphor
Palestinization of Syrian refugees
relevant? What are the historical commonalities between the Palestinian refugees and Syrian refugees today? How do the refugee laws in neighboring countries affect the living conditions of Syrian refugees? How is the political debate in Norway framing the issue of Syrian refugees? These are some of the questions that will be addressed in the panel.
Hanne Heszlein-Lossius
Medical doctor currently an intern doctor at Haraldsplass sykehus in Bergen. Henne also has a bachelor in journalism. She was part of a group of health care workers who started "Helsehjelp for papirløse" i Bergen, a medical centre that provides medical care for immigrants in Bergen (papirløse innvandrere), also working there as a volunteer doctor. She started the Facebook page "
Har du plass til en ekstra i hjemmet ditt
" in May 2015 as a response to the ongoing debate on how Norway should help Syrian refugees.
Line Khateeb
is a Norwegian-Palestinian and was in the period 2008-2012 head of the Palestine Committee of Norway. The last three years she has been working in the Norwegian Organisation for Asylum seekers (NOAS), giving legal assistance and guidance to asylum seekers and doing policy work. She has a master in Middle Eastern studies from the University of Oslo.
Şenay Özden
is a cultural anthropologist and a researcher from Turkey. Her research areas include international migration, refugees, Turkish state's refugee policies, politics of humanitarian aid. She has numerous articles and reports published on Syrian refugees in Turkey. She is one of the founders of the Syrian Cultural House in Istanbul, "Hamisch".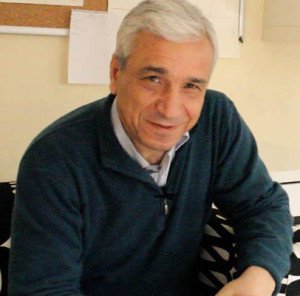 Yassin al-Haj Saleh
is one of Syria's most prominent intellectuals and political dissidents. In 1980, while studying medicine in Aleppo University, he was arrested by Hafez al-Assad regime because of his political activism. He remained in prison for 16 years (1980–1996). Yassin al-Haj Saleh writes on political, social and cultural subjects relating to Syria and the Arab world. He has authored and edited five books about Syria. He is a co-founder of the Syrian online periodical "al-Jumhuriya"
and the Syrian Cultural House in Istanbul "Hamisch". He is a recipient of the Prince Claus Award for 2012.
The panel will be moderated by Jørgen Jensehaugen.
The panel is followed by a screening of On the Bride's SideA Palestinian poet and an Italian journalist meet five Palestinians and Syrians in Milan who entered Europe via the Italian island of Lampedusa after fleeing the war in Syria. They decide to help them complete their journey to Sweden – and hopefully avoid getting themselves arrested as traffickers – by faking a wedding. With a Palestinian friend dressed up as the bride and a dozen or so Italian and Syrian friends as wedding guests, they cross halfway over Europe on a four-day journey of three thousand kilometres. This emotionally charged journey not only brings out the stories and hopes and dreams of the five Palestinians and Syrians and their rather special traffickers, but also reveals an unknown side of Europe – a transnational, supportive and irreverent Europe that ridicules the laws and restrictions of the Fortress in a kind of masquerade which is no other than the direct filming of something that really took place on the road from Milan to Stockholm from the 14th to the 18th of November 2013.