Arab Spring 10 Years Later: Looking Back from Norway
March 17, 2021 @ 7:00 pm

-

8:15 pm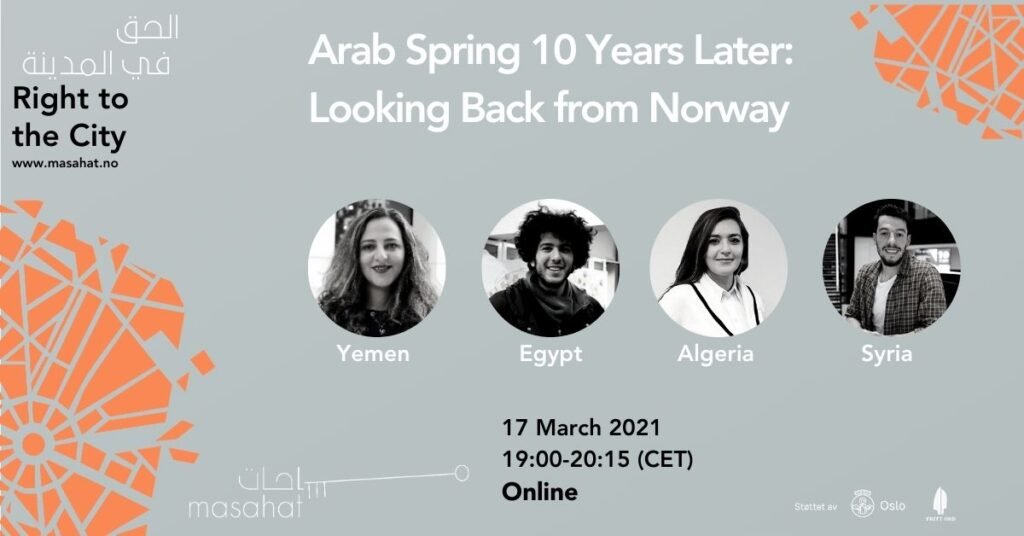 Ten years after the Arab uprisings in 2011, we are faced with critical questions on how to remember and reflect on these events. Calls for social justice, equality and freedom were faced with even more oppression that forced millions to leave their homes in search for a safe and dignified life.
In 2021, we also look back at the second wave of protests in 2019 in Algeria, Sudan, and Lebanon that renewed our hope that change is possible.
Welcome to this conversation with four Arab journalists, researchers and activists based in Norway, who will share their reflections on the uprisings, connection to home, and their new lives in Norway.
Sara Merabti-Elgvin, Algerian political scientist, researcher and an independent consultant
Mostafa El-Sayed Hussin, Egyptian journalist
Wojoud Mejalli, Yemeni journalist and activist
Osama Shaheen, Syrian-Palestinan activist, and managing editor of DER Journal

Moderated by Zeina Bali, Director, Masahat – Open Spaces for Arab Culture in Exile.